Augustinian Monastery Herrenchiemsee
(Old Palace)
Julius Exter Art Gallery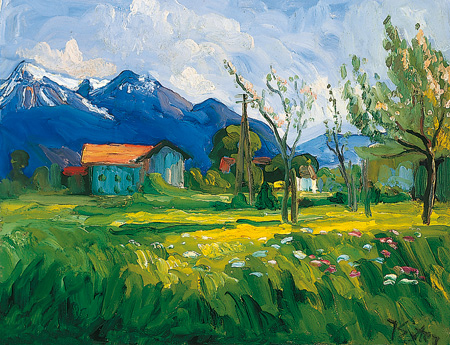 The Julius Exter Art Gallery is part of the Museum in the Augustinian Monastery on Herrenchiemsee and is located in the prelacy tract (north wing), which was built between 1727 and 1730.
The works on display in nine magnificent baroque rooms cover all the creative periods of the artist, from his symbolist period with its dark mystic subjects to his expressionist period, which was characterized by spontaneous, colourful pictures.
Next to a room with self-portraits of the artist is a hall with paintings originating from his summer residence in Übersee-Feldwies. "Nude in the open air" was one of the subjects of the famous painting school of Professor Julius Exter. His pictures on this subject fill a whole hall and lead on to the expressive pictures of the landscape between the Chiemsee and the Alps in the next room.
Maler am Chiemsee Gallery
Julius Exter's House in Übersee-Feldwies
Herrenchiemsee New Palace
Herrenchiemsee Park
Object information:
Address
83209 Herrenchiemsee

08051 6887-0
www.herrenchiemsee.de
Opening hours
Museum in the Augustinian Monastery (with Maler am Chiemsee Gallery and Princes' Tract)
31 March-27 October:
9 am-6 pm
28 October-30 March:
10 am-4.45 pm
open daily
Closed on: January 1, Shrove Tuesday, December 24/25/31
Julius Exter Art Gallery
31 March-27 October: 9 am-6 pm
open daily
closed 28 October-30 March
Guided tours
No regular guided tours
Admission charges 2018
Augustinian monastery
(boat trip not included)
4 euros regular
3 euros reduced
Up to 17 May and from 4 October:
Combination ticket "Island"
(Herrenchiemsee New Palace with King Ludwig II-Museum / Augustinian Monastery/ boat trip not included)
9 euros regular
8 euros reduced
18 May–3 October:
Combination ticket "Island" including the special exhibition "Königsklasse IV"
(boat trip not included):
11 euros regular
109 euros reduced
Annual season tickets/
14-day tickets
All opening hours and admission charges at a glance

Further information
Service (leaflets, photo/film, links …)

Detailed information on www.herrenchiemsee.de

Free wi-fi available

Café im Neuen Schloss

08051 968834
Schlosswirtschaft Herrenchiemsee

08051 962767-0
www.schlosswirtschaft-herrenchiemsee.de

Prien
www.bahn.com

"Chiemseebahn" (in summer) or bus (in winter) to "Schiffsanlegestelle Prien/Stock"

Regular boats from Prien/ Stock or Gstadt
www.chiemsee-
schifffahrt.de
Responsible administrative office
Schloss- und Gartenverwaltung Herrenchiemsee
83209 Herrenchiemsee

08051 6887-0
Fax 08051 6887-99
sgvherrenchiemsee@ bsv.bayern.de
www.herrenchiemsee.de