With almost 160 masterpieces from the time of Peter Paul Rubens, the new State Gallery is an impressive documentation of the Flemish school, with characteristic works of all types from history and landscape painting to portraits, genre paintings and still lifes.
This unique collection is primarily the legacy of two passionate collectors from the House of Wittelsbach: Elector Max Emanuel von Bayern in Munich (1662-1726) and Elector Johann Wilhelm von Pfalz-Neuburg in Düsseldorf (1658-1716).
Johann Wilhelm's grandfather Wolfgang Wilhelm von Pfalz-Neuburg (1578-1653) had already commissioned altar paintings for the Court Church in Neuburg from Peter Paul Rubens: The "Great Last Judgement" (1617) for the main altar (which is actually the largest of all Rubens' works and is now in the Alte Pinakothek in Munich) as well as an "Adoration of the Shepherds" (1619) and a "Descent of the Holy Spirit" for the side altars (1619).
Duke Johann Wilhelm removed the "Great Last Judgement" from the Neuburg church in 1691 and the two side altar pictures in 1703 and transferred them to his Düsseldorf gallery. At the end of the 18th century, when the Palatinate line of the Wittelsbachs died out, the paintings were taken to Munich. Now, after 300 years, the side altar pictures have returned to the town they were originally created for.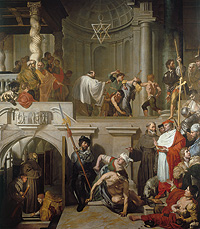 "Papst Nikolaus V. besucht das Grab des hl. Franz von Assisi" ("Pope Nicolas V visiting the tomb of Saint Francis of Assisi"), 1627, Gérard Douffet
As well as eight further paintings by Rubens and his workshop, the Neuburg collection also contains portraits and history paintings by the two other outstanding Antwerp painters of this period, Anthonis van Dyck and Jacob Jordaens.
Brilliant, large-format works of the Lüttich School, in particular by the leading painters Gérard Douffet and Bertholet Flémalle, are on display again for the first time in decades. These masterpieces can be seen in the newly renovated rooms of the west wing of Neuburg Palace, known as the Ottheinrich Building. Count Palatine Ottheinrich (1502-1559) from the Palatinate line of the House of Wittelsbach, began enlarging his residence in 1528.
At the heart of the west wing and thus also of the new gallery is the Large Hall on the second floor, which with a length of 50 metres and a width of 17 metres is the largest hall with an unsupported ceiling north of the Alps; it is now used for displaying the large-format masterpieces.
The rooms on the lower floor of the west tract house the smaller paintings of the Flemish baroque era. On display are landscapes by the Brueghel family and by Jan Wildens and Lucas van Uden, who worked closely with Rubens, as well as still lifes by Frans Snyders and Daniel Seghers, seascapes by Andries Artvelt and Bonaventura Peeters and genre paintings by David Teniers and Gillis van Tilborch.