Rose Garden at the New Residence
– Bamberg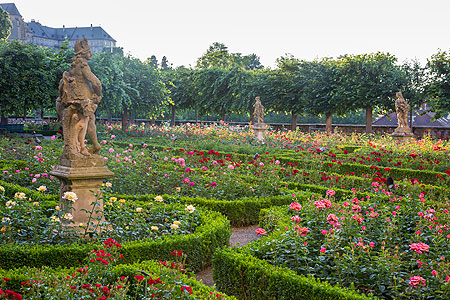 From the Rose Garden in the inner courtyard of the New Residence there is a splendid view of Bamberg. The garden is divided up by two paths at right angles to one another, with a round fountain pool in the centre.
It is bordered with clipped lime trees and a dainty garden pavilion (completed in 1757) and with around 4,500 roses in over 70 beds it is filled in summer with fragrance and colour.
Object information:
Address
Domplatz 8
96049 Bamberg

0951 51939-0
und 0951 51939-114
www.residenz-bamberg.de
Opening hours
April-September: 9 am-6 pm
October-March: 10 am-4 pm
Open daily

Closed on: January 1, Shrove Tuesday, December 24/25/31
Admission charge
Admission free
Further information
Service (leaflets, photo/film, links …)

Admission possible

Shop in the New Residence
www.kulturgut.de


Speisecafé im Rosengarten

0951 5090792
caferosengarten bamberg.de

Bamberg
www.bahn.com

Bus to "Domplatz"
No own car park
Responsible administrative office
Schloss- und Gartenverwaltung Bamberg
Domplatz 8
96049 Bamberg

0951 51939-0
und 0951 51939-114
Fax 0951 51939-129
sgvbamberg@ bsv.bayern.de
www.residenz-bamberg.de