Schönbusch Palace
– Aschaffenburg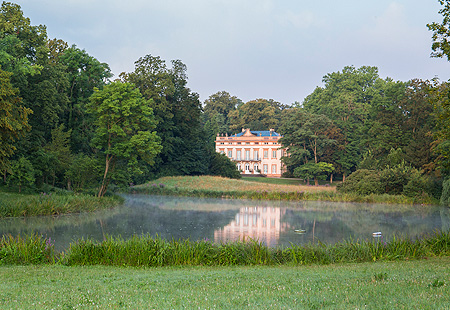 Schönbusch Park is one of the earliest landscape gardens in Germany. From 1775 the Archbishop of Mainz, Friedrich Carl von Erthal, had his deer park redesigned in the English landscape style. The first built structure in the garden, designed by architect Emanuel Joseph von Herigoyen, was the Electoral Pavilion. It was built between 1778 and 1782 as a little neo-classical summer residence with exquisite Louis Seize furnishings and is known today as "Schönbusch Palace".
Schönbusch Park was completed in 1790 by garden architect Friedrich Ludwig Sckell. Architectural features such as an observation tower, the Red Bridge, the Temple of Friendship and the Philosopher's House, a tiny village and shepherds' cottages are arranged in charming settings with artificial lakes and "hills".
In the park visitor centre (former kitchen building) the exhibition "Everything appears natural, so well concealed is the design" informs about the history and development of the park.
Object information:
Address
Kleine Schönbuschallee 1
63741 Aschaffenburg

06021 625478
Opening hours
Schönbusch Palace
23-31 March: 10 am-4 pm
April-3 October: 9 am-6 pm
closed Mondays
closed 4 October-22 March
Park Visitor Centre
23-31 March: Saturdays, sundays and holidays: 11 am-4 pm
April-3 October: Saturdays, sundays and holidays:
11 am-6 pm
(To enter the visitor centre you need an entrance ticket for the palace.)
4 October-22 March: closed

Guided tours
Palace
Guided tours every hour on the hour (in German; approximately 20 minutes)
Last guided tour:
April-September: 5 pm
Park
For groups it is possible to book guided tours in English and French on the garden exhibition and the park (telephone booking required):
Tourist-Information Aschaffenburg

06021 395-801
fax 06021 395-802
Admission charges 2019
3.50 euros regular
2.50 euros reduced
Annual season tickets/
14-day tickets
All opening hours and admission charges at a glance

Further information
Service (leaflets, photo/film, links …)

Rooms in the palace only accessible via staircase; visitor centre at ground level

Kulinarischer Schönbusch (Restaurant & Biergarten)

06021 448560
www.schoenbusch-ab.de

Aschaffenburg
www.bahn.com

Bus to "Park Schönbusch"
Car park at the park entrance
Responsible administrative office
Schloss- und Gartenverwaltung Aschaffenburg
Schlossplatz 4
63739 Aschaffenburg

06021 38657-0
Fax 06021 38657-16
sgvaschaffenburg@ bsv.bayern.de