Object description:
Nymphenburg Palace
– Munich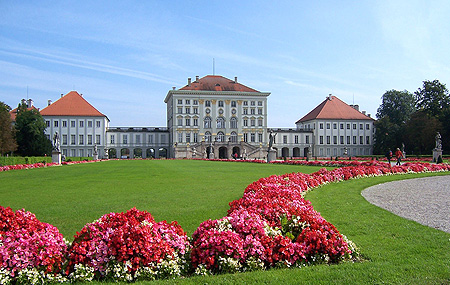 With its unique combination of architecture and garden design, the palace and park complex of Nymphenburg is one of the best examples in Europe of a synthesis of the arts. In 1664, following the birth of the heir to the throne, Max Emanuel, Elector Ferdinand Maria of Bavaria and his wife Henriette Adelaide of Savoy commissioned the architect Agostino Barelli to build Nymphenburg Palace. Elector Max Emanuel had the complex extended from 1701 with side galleries and residential pavilions designed by Henrico Zuccalli.
From 1715, Joseph Effner created the four-winged complexes on each side and modernized the façade of the central building in the French style: the country seat of Max Emanuel's parents was now an extensive summer residence of absolutist proportions. His successor, Elector Karl Albrecht, extended Nymphenburg with the crescent on the city side.
Nymphenburg Palace was extremely popular with the Bavarian rulers as a summer residence. Numerous rulers from the Wittelsbach dynasty added to the interior. The decoration of the main palace thus represents a variety of styles ranging from Baroque and Rococo to Neoclassicism.This long tradition is reflected in the Baroque ceiling paintings from the epoch of the palace's founder, the apartments decorated with exquisite paintings and furniture and the galleries with views of Bavarian palaces and hunting lodges from the time of Elector Max Emanuel.
A further highlight is the light-filled Great Hall with its lively ceiling fresco and the stucco ornamentation by Johann Baptist Zimmermann in the Rococo style. The era of the Bavarian kings is represented by the residential rooms of the queen with their authentic furnishing in the court Empire style, which include the room in which King Ludwig II was born. Among the attractions of Nymphenburg is the famous Gallery of Beauties of King Ludwig I of Bavaria, for which Joseph Stieler painted 36 beautiful women from all sections of society.
show more
Marstallmuseum and Museum of Nymphenburg Porcelain
Nymphenburg Palace Park
Small palaces at Nymphenburg Park
---
The following rooms are available for your events:
Current information –
Closure 26-30 July
Nymphenburg Palace will be closed from Wednesday, 26 July to Sunday, 30 July 2023 inclusive for an event.
The Marstallmuseum, the palace park and the buildings in the park will remain open.
Opening hours
April-15 October: 9 am-6 pm
16 October-March: 10 am-4 pm
open daily
Closed on: January 1, Shrove Tuesday, December 24/25/31
Guided tours
No regular guided tours
Audioguide available in German, English, Italian, French, Spanish, Russian, Chinese (Mandarin) and Japanese (with costs)
Admission fees 2023
8 euros regular
7 euros reduced
Combination ticket "Nymphenburg"
(Nymphenburg Palace + Park palaces + Marstallmuseum)
1 April-15 October:
15 euros regular
13 euros reduced
16 October-March
(without park buildings):
12 euros regular
10 euros reduced
Tickets for the Nymphenburg palace complex are also available online in our ticket shop.
Accessibility
Getting here / parking
Munich
www.bahn.com
Tram to 'Romanplatz',
bus or tram to 'Schloss Nymphenburg'
450 car parking spaces, 14 bus parking spaces available