Object description:
Nymphenburg Palace
– Munich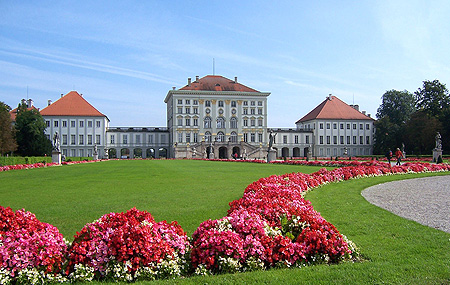 With its unique combination of architecture and garden design, Nymphenburg is one of the best examples in Europe of a synthesis of the arts. Following the birth of the heir to the throne, Max Emanuel, Elector Ferdinand Maria and his consort commissioned the architect Agostino Barelli to build Nymphenburg Palace, which was begun in 1664.
During the reign of Max Emanuel the complex was extended with side galleries and residential buildings designed in 1701 by Henrico Zuccalli. From 1714, under the direction of Joseph Effner, the adjacent four-winged buildings were completed and the façade of the central building was modernized in the French style: the private country house was now an extensive summer residence of absolutist proportions.
Max Emanuel's successor, Elector Karl Albrecht, completed the complex on the city side with the Rondell buildings. The interior rooms present exhibitions and works of art from the Baroque period to Classicism. The tour of the palace also includes a look at the room in which King Ludwig II of Bavaria was born. Another highlight is the world-famous "Gallery of Beauties", with portraits commissioned by King Ludwig I.
show more
Marstallmuseum and Museum of Nymphenburg Porcelain
Nymphenburg Palace Park
Small palaces at Nymphenburg Park
---
The following rooms are available for your events:
Address
Schloss Nymphenburg,
Eingang 1
80638 München

089 17908-0
www.schloss-nymphenburg.de
Information for visitors/ COVID-19
For a visit to our sights, the 2G plus rule applies at present.
Opening hours
April-15 October: 9 am-6 pm
16 October-March: 10 am-4 pm
open daily
Closed on: January 1, Shrove Tuesday, December 24/25/31
Guided tours
No regular guided tours
Admission charges 2022
8 euros regular
7 euros reduced

Tickets for the Nymphenburg palace complex are also available online in our ticket shop.
Gondola rides
During the summer season, gondola rides are offered every day (in fine weather) on the central canal. Further information can be obtained at www.gondel-nymphenburg.de or by calling the gondola ride number 0175 6000468.
Further information
Service (leaflets, photo/film, links …)

Detailed information at www.schloss-nymphenburg.de

Museum Mensch und Natur

089 179589-0
www.mmn-muenchen.de

Shop
www.kulturgut.de

Free wifi available

There is a passage from the palace park to the Munich Botanic Garden
www.botmuc.de

Schlosswirtschaft Schwaige

089 12020890
www.schlosswirtschaft-schwaige.de
Café im Palmenhaus

089 175309
palmenhaus.de
die FASANERIE
Hartmannshofer Straße 20
80997 München

089 92284-600
www.fasanerie.de
Taxisgarten
Taxisstraße 12
80637 München

089 156827
www.taxisgarten.de

Munich
www.bahn.com

Tram to "Romanplatz",
bus or tram to "Schloss Nymphenburg"
450 car parking spaces, 25 bus parking spaces available
Responsible administrative office
Schloss- und Gartenverwaltung Nymphenburg
Schloss Nymphenburg,
Eingang 19
80638 München

089 17908-0
Fax 089 17908-627
sgvnymphenburg@ bsv.bayern.de
www.schloss-nymphenburg.de