Object description:
Schleißheim New Palace
– Oberschleißheim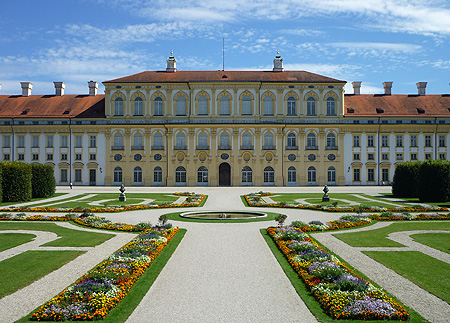 The New Palace was begun under Max Emanuel in 1701-1704 from designs by Henrico Zuccalli and completed from 1719 by Joseph Effner. Of the originally planned, monumental complex consisting of four wings, only the main wing was completed. The result is nevertheless an outstandingly beautiful Baroque palace.
The magnificent interior decoration was the work of well-known artists such as Johann Baptist Zimmermann, Cosmas Damian Asam and Jacopo Amigoni. The Gallery Rooms contain masterpieces from the european baroque era.
The baroque court garden, laid out by Dominique Girard and others, is still largely in its original form.
show more
Schleißheim Old Palace
Lustheim Palace
Schleißheim Court Garden
---
The following rooms are available for your events:
Address
Max-Emanuel-Platz 1
85764 Oberschleißheim

089 315872-0
www.schloesser-schleissheim.de
Opening hours
April-September: 9 am-6 pm
October-March: 10 am-4 pm
closed Mondays
(except: 6 January, Easter Monday, 1 May, Whit Monday, 15 August, 3 October, 1 November)
Closed on: January 1, Shrove Tuesday, December 24/25/31
Guided tours
No regular guided tours

Audioguide available in German, English, Italian and French (with costs)
Admission charges 2021
6 euros regular
5 euros reduced
Combination ticket
(Old Palace + New Palace + Lustheim Palace)
10 euros regular
8 euros reduced
Annual season tickets/
14-day tickets
All opening hours and admission charges at a glance

Waterworks
April to mid-September:
Mon-Fri 11.30 am-4 pm
Sat/Sun 10 am-6 pm
Further information
Service (leaflets, photo/film, links …)

Detailed information at www.schloesser- schleissheim.de

Shop
www.kulturgut.de

"Oberschleißheim"

Bus to "Schloss"
Car park (with costs)
Responsible administrative office
Schloss- und Gartenverwaltung Schleißheim
Max-Emanuel-Platz 1
85764 Oberschleißheim

089 315872-0
Fax 089 315872-50
sgvschleissheim@ bsv.bayern.de
www.schloesser-schleissheim.de