Würzburg Residence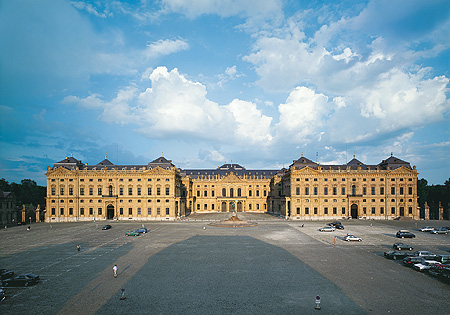 The former residence of the Würzburg prince-bishops is one of the most important baroque palaces in Europe and today it is on UNESCO's World Heritage list. Originally designed for Prince-Bishop Johann Philipp Franz von Schönborn by the then young and unknown architect Balthasar Neumann, it took sixty years to complete; the shell of the palace was built from 1720 to 1744 and the interior finished in 1780.
Neumann's world-famous staircase, roofed by an unsupported vault, was decorated in 1752/53 by the Venetian Giovanni Battista Tiepolo with a ceiling fresco representing the four continents. The painting, measuring 18 x 30 metres, is one of the largest frescos ever created. The magnificent sequence of rooms begins with the vestibule and Garden Hall and continues via the staircase and White Hall to the Imperial Hall, also with frescos by Tiepolo. The vaulting of these rooms even withstood the devastating fire of 1945, while the ceilings and floors of the Imperial Apartments flanking the Imperial Hall were destroyed. The furnishings and wall panelling had been removed beforehand, enabling the rooms to be reconstructed.
Restoration was completed in 1987 with the reopening of the Mirror Cabinet. There is a total of over 40 palace rooms to visit, with a rich array of furniture, tapestries, paintings and other 18th centuriy treasures. The Court Chapel, entered separately from the southern front yard, is one of the finest examples of religious art in Würzburg. The State Gallery contains Venetian art from the 17th and 18th centuries (Branch of the Bavarian State Galleries).
A walk in the Würzburg Court Garden is a delight for both nature- and art-lovers. The water basin encircled by yew trees clipped into the shape of cones forms the present centre of the South Garden. In front of the magnificent east façade is a terraced garden decorated with groups of puttos by Johann Peter Wagner.
Fürstensaal

(Prince's Hall)
Kitchen (Prince's Hall)
Erdgeschoss-Vestibül

(vestibule)
Gartensaal

(Garden Hall)
Kitchen (Garden Hall)
Kaisersaal

(Imperial Hall)
Weißer Saal

(White Hall)
Hofkirche

(court chapel)
Object information:
Address
Residenzplatz
97070 Würzburg

0931 35517-0
www.residenz-wuerzburg.de
Opening hours
April-October: 9 am-6 pm
November-March: 10 am-4.30 pm
open daily
last entry: 30 minutes before the stated closing time
Closed on: January 1, Shrove Tuesday, December 24/25/31
Guided tours
Visit only with a guided tour (maximum 50 people); last guided tour in German 1 hour before closing time
Tours in English at 11 am and 3 pm, from April to October also at 1.30 pm and 4.30 pm; special tours on request (please call)
Admission charges 2019
7.50 euros regular
6.50 euros reduced
Annual season tickets/
14-day tickets
All opening hours and admission charges at a glance

Further information
Service (leaflets, photo/film, links …)

The Residence is accessible for wheelchair users; there is a lift as well as a toilet for the disabled.

Martin von Wagner Museum (Würzburg University), access via south wing

0931 3182288
Staatlicher Hofkeller Würzburg

0931 30509-23
fax 0931 30509-66
www.hofkeller.de

Shop
www.kulturgut.de

B. Neumann – Café, Restaurant, Weinbar

0931 46771944
www.b-neumann.com

Würzburg
www.bahn.com

Bus to "Residenz",
bus to "Mainfranken Theater", tram to "Dom"
400 car parking spaces available (with costs)
15 bus parking spaces nearby (Husarenstraße)
Responsible administrative office
Schloss- und Gartenverwaltung Würzburg
Residenzplatz 2, Tor B
97070 Würzburg

0931 35517-0
Fax 0931 35517-25
sgvwuerzburg@ bsv.bayern.de
www.residenz-wuerzburg.de