Herrenchiemsee New Palace

King Ludwig II's original idea was to have a copy of Versailles Palace built on the Herreninsel as a "Temple of Fame" in honour of the Sun King Louis XIV of France. Started in 1878, it was thus intended purely as a monument to absolute monarchy and had no practical function. The architect Georg Dollmann was obliged to study the original model and even reconstruct rooms which had long ceased to exist in Versailles.
The main rooms are some of the best examples of nineteenth-century interior design in existence, and are much more splendidly furnished than those in Versailles. No other porcelain collection is so comprehensive or of such high quality, and the magnificent textiles are equally unique. One of the artistic ideals of the nineteenth century, the "perfection" of historic styles, was realised in its finest form in this building.
The park modelled on Versailles by Carl von Effner was originally intended to cover a large part of the island. When Ludwig II died in 1886, only the central axis with its splendid fountains was carried out. The palace remained uncompleted.
King Ludwig II-Museum
The museum is housed in twelve modernized rooms on the ground floor of the south wing and was opened in 1987. It documents the story of Ludwig II's life, from his birth to his tragic early death, with painted portraits, busts, historic photographs and original state robes.
The king also has a place in the history of music as the patron of the composer Richard Wagner. Portraits, written documents and theatre/stage designs record this aspect of his life.
The royal residences of Neuschwanstein Castle, Linderhof Palace and Herrenchiemsee Palace as well as Ludwig II's other building projects are also covered. Highlights of the museum include the magnificent furniture that originally stood in the royal apartment in the Munich Residence (destroyed during the Second World War) and the first state bedroom in Linderhof Palace.
Elaborately handcrafted items, show-pieces that were commissioned by the king, document the European standing of Munich art in the second half of the nineteenth century.
Object information:
Address
83209 Herrenchiemsee

08051 6887-0
www.herrenchiemsee.de
Opening hours
New Palace
31 March-27 October:
9 am-6 pm
last guided tour: 5.15 pm
28 October-30 March:
9.40 am-4.15 pm
last guided tour: 3.40 pm
open daily
King Ludwig II-Museum
31 March-27 October:
9 am-6 pm
28 October-30 March:
10 am-4.45 pm
open daily
Closed on: January 1, Shrove Tuesday, December 24/25/31
Guided tours
New Palace
Visit only possible with a guided tour (c. 30 mins) in groups up to 55 persons
Admission charges 2019
Combination ticket "Island" until 10 May and from 4 October
(Herrenchiemsee New Palace with King Ludwig II-Museum / Augustinian Monastery/ boat trip not included)
9 euros regular
8 euros reduced
11 May-3 October 2019:
Combination ticket "Island" including the exhibition"Königsklasse IV"
(boat trip not included):
11 euros regular
10 euros reduced
"Königsschlösser"
combination ticket
(King Ludwig II's palaces)
26 euros
The combination ticket is valid for six months; you can visit each of the palaces Herrenchiemsee, Linderhof, and Neuschwanstein once.
Annual season tickets/
14-day tickets
All opening hours and admission charges at a glance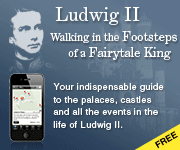 Further information
Service (leaflets, photo/film, links …)

Detailed information on www.herrenchiemsee.de

Shop at boat pier
www.kulturgut.de

Free wi-fi available

Café im Neuen Schloss

08051 968834
schlosscafe-herrenchiemsee.de
Schlosswirtschaft Herrenchiemsee

08051 962767-0
schlosswirtschaft-herrenchiemsee.de

Prien
www.bahn.com

"Chiemseebahn" (in summer) or bus (in winter) to "Schiffsanlegestelle Prien/Stock"

Regular boats from Prien/ Stock or Gstadt
www.chiemsee-
schifffahrt.de
Coach trips from the landing stage to the palace and back (from mid-April to the end of October)
Responsible administrative office
Schloss- und Gartenverwaltung Herrenchiemsee
83209 Herrenchiemsee

08051 6887-0
Fax 08051 6887-99
sgvherrenchiemsee@ bsv.bayern.de
www.herrenchiemsee.de