Schleißheim Old Palace
– Oberschleißheim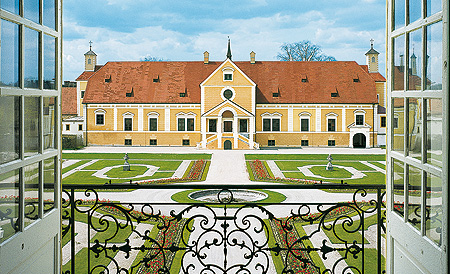 The Museum at Schleißheim Old Palace, a branch of the Bavarian National Museum, houses two collections:
Gertrud Weinhold Ecumenical Collection
"The religious

year and its festivals"

The museum has a permanent exhibition comprising over 6,000 items illustrating religious culture round the world and ranging from images used in religious festivals to private expressions of faith. They were collected and arranged by the Berlin patron and honorary professor Gertrud Weinhold (1899-1992), and were left to Bavaria on her death.
East and West Prussia Collection

"Es war ein Land …"

("There once was a
land …")
This collection describes East and West Prussia before the German population was driven out and serves as a reminder of the history, culture and fate of this area. It focuses primarily on the particular characteristics of the landscape and the people and the significance of this region for Germany and its european neighbours.
Schleißheim New Palace
Lustheim Palace
Schleißheim Court Garden
Object information:
Address
Max-Emanuel-Platz 1
85764 Oberschleißheim

089 315872-0
www.schloesser-schleissheim.de
Opening hours
April-September: 9 am-6 pm
October-March: 10 am-4 pm
closed Mondays
Closed on: January 1, Shrove Tuesday, December 24/25/31
Guided tours
No regular guided tours
Admission charges 2019
3 euros regular
2 euros reduced
Combination ticket
(Old Palace / New Palace / Lustheim Palace)
8 euros regular
6 euros reduced
Annual season tickets/
14-day tickets
All opening hours and admission charges at a glance

Further information
Service (leaflets, photo/film, links …)

Detailed information on www.schloesser- schleissheim.de

Museum at Schleißheim Old Palace (Branch of the Bavarian National Museum)

Shop at the New Palace
www.kulturgut.de

Schlosswirtschaft
Oberschleißheim Alm

089 3151555
für Reservierungen:

089 31288672
www.schlosswirtschaft-oberschleissheim.com

"Oberschleißheim"

Bus to "Schloss"
Car park (with costs)
Responsible administrative office
Schloss- und Gartenverwaltung Schleißheim
Max-Emanuel-Platz 1
85764 Oberschleißheim

089 315872-0
Fax 089 315872-50
sgvschleissheim@ bsv.bayern.de
www.schloesser-schleissheim.de