Object description:
Casino (Royal Villa) on Rose Island
– Feldafing / Starnberger See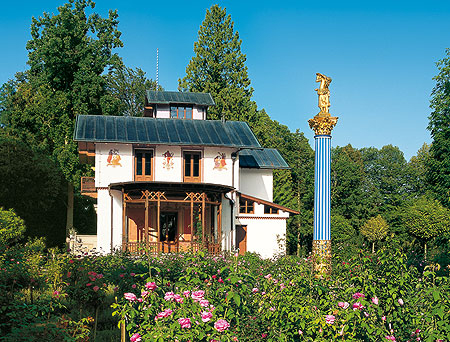 In 1853 King Maximilian II of Bavaria commissioned Peter Joseph Lenné to design a landscape park on the west shore of the Starnberger See. The park, which combines decorative formal and natural landscape elements, was laid out by Carl von Effner. The palace commenced much later in 1863 was abandoned on the early death of the king in March 1864.
Rose Island with its small island villa, the "Casino", and a rose garden also designed by Lenné, was one of the favourite places of Maximilian's son Ludwig II; among the special guests he received here were Tsarina Maria Alexandrovna, Richard Wagner and Empress Elisabeth of Austria.
show more
The remains of prehistoric pile dwellings on the bottom of Lake Starnberg by Rose Island have been included on UNESCO's World Cultural Heritage list.
Rose blossom
Usually the first blossom begins around mid-June, the second around mid-August, each lasting for about 4 weeks. Depending on the climate the roses may bloom (even weeks) earlier or later.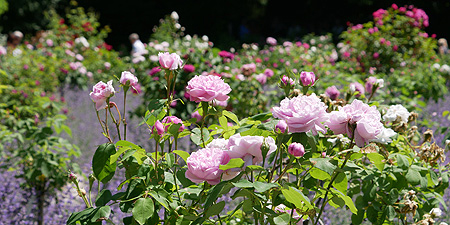 ---
The following rooms are available for your events:

Gartensaal

(Garden Hall)

The Garden Hall is suitable for civil weddings with a maximum of 30 persons.
Address
Wittelsbacher Park 1
82340 Feldafing

08157 924162
Information for visitors/ COVID-19
For a visit to our sights, the 2G plus rule applies at present.
Here you will find further information and FAQ.
---
You can only visit the Casino on Rose Island on a guided tour (clearly reduced group size).
The small museum of island history in the former gardener's house must unfortunately remain closed until further notice.
Opening hours
Casino (Royal Villa)
Mai-15 Oct: 12.15-5.30 pm
(cash desk + shop: 12 pm-6 pm)
closed Mondays (except: 1 May, Whit Monday, 15 August, 3 October)
October-April: closed
Guided tours
The visit of the Casino is only possible with a guided tour (in German, ca. 25 mins, max 5 people):
Weekdays:
12.15 pm-4.15 pm every hour,
last guided tour: 5 pm
Weekends / holidays:
12.15 pm-4.15 pm every half hour, last guided tour: 5 pm
Admission charges 2022
4 euros regular
3 euros reduced
Ferry to Rose Island

Ferry service from Feldafing Park to Rose Island (May to mid-October) in good weather;
for details please call

0151 28741905
www.roseninsel.bayern
Further information
Rose Island is open to the public; it is not allowed to bring dogs or bicycles to the island.
Service (leaflets, photo/film, links …)

Ramp to the ground floor of the "Casino"; 1st floor only accessible via steps

from Munich to "Feldafing"
Responsible administrative office
Bayer. Schlösserverwaltung/
Außenstelle Starnberger See
Nepomukweg 4
82319 Starnberg

08151 550730-0
Fax 08151 550730-9
seeverwaltung. starnbergersee@ bsv.bayern.de