Casino (Royal Villa) on Rose Island
– Feldafing / Starnberger See
Monument under water
The remains of prehistoric pile dwellings on the bottom of Lake Starnberg by Rose Island have been included on UNESCO's World Cultural Heritage list.
In June 2011, over 100 selected archaeological sites in several countries were declared cultural heritage under the heading of "Prehistoric pile dwellings around the Alps". They provide researchers with unique insights into the ancient world of farming, everyday life, agriculture, animal breeding and technical innovations. The pile dwelling sites in Lake Starnberg, together with other remains of settlements, represent an archaeological heritage which dates back to 5000 BC.
For further information about the pile dwellings in Bavaria, please contact the Bavarian State Office for the Preservation of Monuments (Bayerisches Landesamt für Denkmalpflege).
More information on the UNESCO you will find on http://whc.unesco.org.
---
Experience archaeological finds as 3D prints!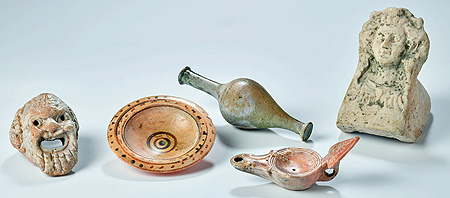 In the dining room of the "Casino", during the reign of King Maximilian II., there was a showcase in which the king, who enjoyed collecting, is said to have kept antique finds. This piece of furniture was reconstructed by a sponsoring society.
For security reasons, the original antiques cannot be exhibited on Rose Island, but are in the care of the Archäologische Staatssammlung (State Archaeological Collection). Therefore, 3D colour prints were made of selected objects, which can be viewed in the "Casino".