Bayreuth Court Garden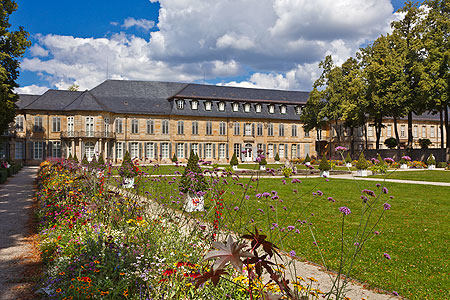 After the New Palace was built, the garden, which had been margravial property since the end of the 16th century, was redesigned and extended: south of the pall mall alley dating from 1679, which was included in the new garden, Friedrich and Wilhelmine von Brandenburg-Bayreuth added avenues, hedge gardens, pergolas and parterres. The central axis was a canal with a right-angled bend and four islands.
At the end of the 18th century, the court garden was transformed into an English-style park with winding paths and natural stands of trees. However, the basic features of the geometric garden can still be seen: the park is dominated by the canal and the three main avenues and in 1990 the parterre in front of the south wing was also reconstructed.
Object information:
Address
Ludwigstraße 21
95444 Bayreuth

0921 75969-21
www.bayreuth-wilhelmine.de
Opening hours
Open all year round
Admission charges
Admission free
Further information
Service (leaflets, photo/film, links …)

All paths accessible, only the bridges are not passable for wheelchair users

Shop in the New Palace
www.kulturgut.de

Bayreuth
www.bahn.com

Bus to "Sternplatz"
Parking facilities in the centre of Bayreuth can be found at www.bayreuth.de.
Responsible administrative office
Schloss- und Gartenverwaltung
Bayreuth-Eremitage
Ludwigstraße 21
95444 Bayreuth

0921 75969-0
Fax 0921 75969-15
sgvbayreuth@ bsv.bayern.de
www.bayreuth-wilhelmine.de