Object description:
Hall of Liberation at Kelheim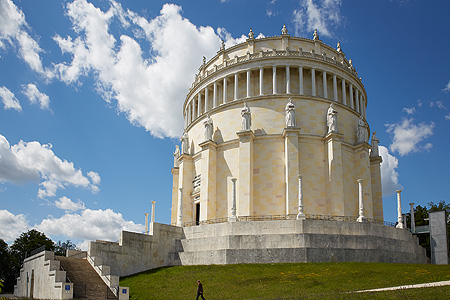 The memorial commemorating the victorious battles against Napoleon in the Wars of Liberation in 1813-1815 was commissioned by King Ludwig I and begun by Friedrich Gärtner, who modelled it on centrally planned buildings from ancient Rome and the Italian Middle Ages. It was completed from modified plans in 1863 by Leo von Klenze.
The supporting buttresses of the façade are crowned by 18 monumental statues which are allegories of the German tribes. The number 18 also symbolizes the date of the Battle of the Nations at Leipzig (18.10.1813), when Napoleon's troops suffered a crushing defeat at the hands of the Coalition.
Inside the building, 34 monumental goddesses of victory made by Ludwig Schwanthaler in white Carrara marble join hands in a ceremonious round dance. Between them they hold 17 gilt shields that are said to have been made from the bronze of melted weapons. Since it soon became difficult to obtain the large marble blocks from Schlanders in Tyrol, only six figures could be made from this stone. The marble for the other 28 goddesses came from Carrara, and was transported to the Michelsberg primarily by water.
show more
Virtual tour (as of 2010)
In this virtual tour you will experience the Hall of Liberation at Kelheim from a brand new perspective. The Panoramic shots (360 degrees) will present you phantastic views of the palace and the gardens. Please click on the picture below to start the virtual tour: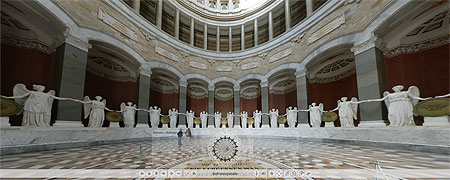 The panoramas or pictures to be loaded are rather large, and thus take a relatively long time to load. Please be patient – they are worth waiting for! The tour opens in a separate window and was prepared by Josef Spitzlberger, Oberschleißheim.

Live pictures of the Hall of Liberation you will find here:
www.webcams-in-kelheim.de
Address
Befreiungshallestraße 3
93309 Kelheim

09441 68207-0
Information for visitors/ COVID-19
The 3G rule applies for a visit to our houses if the 7-day incidence determined by the competent district administration authority is above 35.
18-20 October 2021: Hall of Liberation closed
The Hall of Liberation at Kelheim will unfortunately have to remain closed from Monday 18 to Wednesday 20 October due to rock clearance work along the access road.
We ask for your understanding.
Opening hours
April-October: 9 am-6 pm
November-March: 10 am-4 pm
open daily
Tickets on sale
April-October: 9 am-5.15 pm
Nov.-March: 10 am-3.15 pm
Closed on: January 1, Shrove Tuesday, December 24/25/31
Guided tours
No regular guided tours

Multimedia-Guide available in German and English (with costs)
Admission charges 2021
4.50 euros regular
4 euros reduced
Combination ticket
(Hall of Liberation + Prunn Castle)
9 euros regular
8 euros reduced
Combination ticket
(Hall of Liberation + Prunn Castle + Walhalla)
12 euros regular
10 euros reduced
Annual season tickets/
14-day tickets
All opening hours and admission charges at a glance

Further information
Service (leaflets, photo/film, links …)

No dogs or other animals may be taken into the Hall of Liberation.

Accessible via lift
Information sheet on the Hall of Liberation for people with a handicap

Shop
www.kulturgut.de

Café Bistro zur Befreiungshalle

09441 6609485
 www.cafebistro befreiungshalle.de

Saal
www.bahn.com

Car park and bus car park available (with costs)
Responsible administrative office
Verwaltung der Befreiungshalle Kelheim
Befreiungshallestraße 3
93309 Kelheim

09441 68207-0
Fax 09441 68207-20
befreiungshalle.kelheim@ bsv.bayern.de