Object description:
Rosenburg Castle
– Riedenburg (Altmühltal)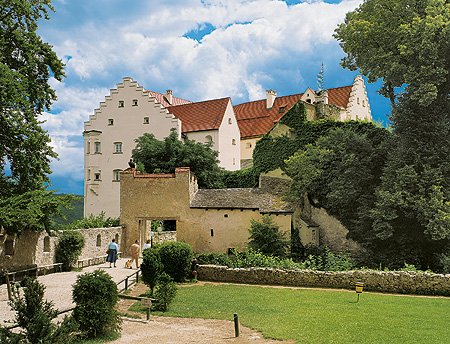 Rosenburg Castle, probably built in the middle of the 12th century, was acquired by the Dukes of Bavaria in 1196, and from then on remained in the hands of the House of Wittelsbach.
The core of this large complex is Romanesque; it was twice destroyed and rebuilt and in 1525 first acquired its present appearance, which is dominated by the residential building in South German Renaissance style with its crow-step gables. Among the highlights is the chapel on the ground floor with wall paintings dating from around 1560.
show more
The castle is now used by a privately run falconry with a Museum of Hunting and Falconry; falconry demonstrations are held in the castle courtyard.
Further information you will find here:
www.falkenhof-rosenburg.de
Address/ Information
Falkenhof
93339 Riedenburg

09442 2752
www.falkenhof rosenburg.de
Opening hours
April to mid-October:
9 am-5 pm
closed Mondays
Falconry demonstrations
at 11 am and 3 pm
closed mid-October to March
Admission fees
The castle and the restaurant can only be visited with a ticket for the falconry.
Please note: The annual season tickets and 14-day tickets of the Bavarian Palace Administration entitle the bearers to admittance only after the last falconry demonstrations.
Further information
Service (leaflets, photo/film, links …)

Only castle courtyard and restaurant accessible

Jagd- und Falknereimuseum (Museum of Hunting and Falconry)

Burgkeller

09442 9219562
www.burgkeller-rosenburg.de
Car park
Administrative office
Verwaltung der Befreiungshalle Kelheim
Befreiungshallestraße 3
93309 Kelheim

09441 68207-0
Fax 09441 68207-20
befreiungshalle.kelheim@ bsv.bayern.de