Augustinian Monastery Herrenchiemsee
(Old Palace)
In around 1130, Archbishop Konrad of Salzburg established a canonical foundation of the Order of St Augustine in place of an 8th-century Benedictine monastery. It was later redesigned in the baroque style and was dissolved in 1803. King Ludwig II acquired the island in 1873 as the site of his new palace and established his own private quarters in the so-called Convent Tract (east wing) of the monastery. The king's rooms are part of the museum. In 1948 the Constitutional Assembly met in the dining room to draw up the Grundgesetz (constitution) for the Federal Republic of Germany.
However, "From the monastery to the king's palace" and "The Birth of a Constitution" – both located in the Convent Tract (east wing) – are only two parts of the museum.
On the first upper floor of the Convent Tract is the Maler am Chiemsee Gallery, and in the Princes' Tract (south wing) the magnificent Imperial Hall, the Garden Room and the Court Kitchen can be seen.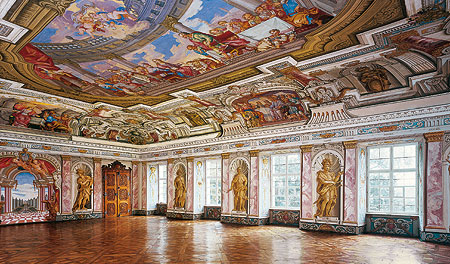 Imperial Hall in the Princes' Tract
Besides, in the Prelacy Tract (north wing) the monastery complex houses the Julius Exter Art Gallery.
North of the Augustinian monastery (Old Palace) is the former parish church of St Maria, a late-Gothic building redesigned in the baroque style with a remarkable coffered ceiling installed in 1630. In front of the monastery seminary dating from 1740, which is today a restaurant, is the "Plane Tree Grove" planted in 1893, from which there is a splendid view of the Fraueninsel.
Herrenchiemsee New Palace
Herrenchiemsee Park
---
The following rooms are available for your events:

Bibliothekssaal

(Library Hall)

The Library Hall is suitable for chamber concerts and small conferences up to 99 persons.
Object information:
Address
83209 Herrenchiemsee

08051 6887-0
www.herrenchiemsee.de
Opening hours
Museum in the Augustinian Monastery (with Maler am Chiemsee Gallery and Princes' Tract)
31 March-27 October:
9 am-6 pm
28 October-30 March:
10 am-4.45 pm
open daily
Closed on: January 1, Shrove Tuesday, December 24/25/31
Julius Exter Art Gallery
31 March-27 October: 9 am-6 pm
open daily
closed 28 October-30 March
Guided tours
No regular guided tours
Admission charges 2019
Augustinian monastery
(boat trip not included)
4 euros regular
3 euros reduced
Combination ticket "Island" until 10 May and from 4 October
(Herrenchiemsee New Palace with King Ludwig II-Museum / Augustinian Monastery/ boat trip not included)
9 euros regular
8 euros reduced
11 May-3 October 2019:
Combination ticket "Island" including the exhibition "Königsklasse IV"
(boat trip not included):
11 euros regular
10 euros reduced
Annual season tickets/
14-day tickets
All opening hours and admission charges at a glance

Further information
Service (leaflets, photo/film, links …)

Detailed information on www.herrenchiemsee.de

Free wi-fi available

Café im Neuen Schloss

08051 968834
schlosscafe-herrenchiemsee.de
Schlosswirtschaft Herrenchiemsee

08051 962767-0
schlosswirtschaft-herrenchiemsee.de

Prien
www.bahn.com

"Chiemseebahn" (in summer) or bus (in winter) to "Schiffsanlegestelle Prien/Stock"

Regular boats from Prien/ Stock or Gstadt
www.chiemsee-
schifffahrt.de
Responsible administrative office
Schloss- und Gartenverwaltung Herrenchiemsee
83209 Herrenchiemsee

08051 6887-0
Fax 08051 6887-99
sgvherrenchiemsee@ bsv.bayern.de
www.herrenchiemsee.de