Seehof Palace
– Memmelsdorf near Bamberg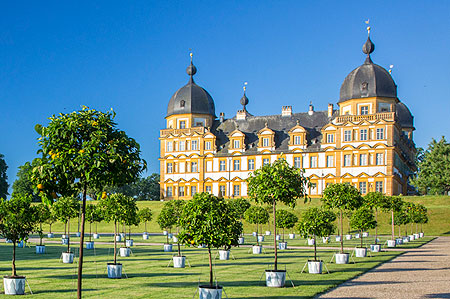 Seehof Palace was built from 1686 as a summer residence for the Bamberg Prince-Bishops from plans by Antonio Petrini. After secularization it fell into disrepair under private ownership, and by the end of the 20th century extensive renovation work was necessary.
Most of the palace is today used by the Bavarian State Conservation Office.
The nine state rooms of the restored Prince-Bishops' apartment, including the "White Hall" with its magnificent ceiling painting by Guiseppe Appiani, are open to the public.
Among the features reflecting the splendour of the former Rococo garden are the restored cascade with its waterworks and some of the original sandstone sculptures by Ferdinand Tietz.
---
The following rooms are available for your events:

Orangerie

(orangery)

The orangery is suitable for receptions, banquets and concerts up to 416 persons.
Schlosskapelle

(palace chapel)

The palace chapel is suitable for secular marriage ceremonies up to 80 persons.

Nebenraum Schlosskapelle

(room next to the palace chapel)

The room next to the palace chapel is suitable for civil weddings up to 40 persons.
Virtual tour (as of 2012)
In this virtual tour you will experience Seehof Palace and Park from a brand new perspective. The panoramic shots (360 degrees) will present you phantastic views of the palace and the gardens. Please click on the picture below to start the virtual tour:

The panoramas or pictures to be loaded are rather large, and thus take a relatively long time to load. Please be patient – they are worth waiting for! The tour opens in a separate window and was prepared by Josef Spitzlberger, Oberschleißheim.
Object information:
Address
96117 Memmelsdorf

0951 4095-71
museum@ schlosspark-seehof.de
Opening hours
April-3 November: 9 am-6 pm
closed Mondays
closed 4 November-March
Waterworks
May-beginning of October:
daily 10 am-5 pm
every hour on the hour
Guided tours
Guided tours (in German; approximately 45 minutes)
Admission charges 2019
4 euros regular
3 euros reduced
Combination ticket
(Seehof Palace/ New Residence in Bamberg)
7 Euro regular
5.50 Euro reduced
Annual season tickets/
14-day tickets
All opening hours and admission charges at a glance

Further information
Service (leaflets, photo/film, links …)

Lift available

Café-Restaurant

0951 4071640
www.schlossseehof.de

Bamberg
www.bahn.com

Bus to "Seehof"
224 car parking spaces, 7 bus parking spaces available
Responsible administrative office
Schloss- und Gartenverwaltung Bamberg
Domplatz 8
96049 Bamberg

0951 51939-0
und 0951 51939-114
Fax 0951 51939-129
sgvbamberg@ bsv.bayern.de
www.residenz-bamberg.de