Mathias and Anna Sophie Gasteiger's House
– Holzhausen / Ammersee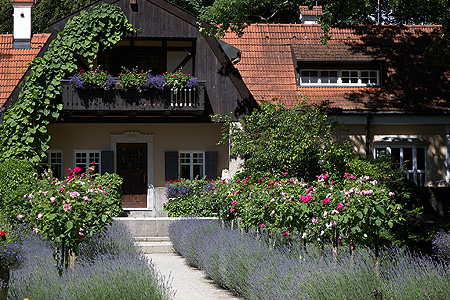 The sculptor Mathias Gasteiger (1871-1934) was one of the important Munich artists active in the period around 1900. He was married to Anna Sophie Gasteiger (1877-1954), who was best known for her paintings of flowers.
The home they built by the Ammersee from 1902 to 1913 with its landscape park, house and outhouses is a unique example of the Munich Art Nouveau style.
The museum in the rooms where they lived still has the original Art Nouveau furnishings, together with historic photos, a selection of sculptures by Mathias Gasteiger and a collection of paintings by Anna Sophie Gasteiger.
show more
Garden at Mathias and Anna Sophie Gasteiger's House
Ammersee
---
The following rooms are available for your events:
Object information:
Address
Eduard-Thöny-Straße 43
86919 Holzhausen

08806 699 or 7605
Opening hours
April-October:
every Sunday 2 pm-5 pm
closed November-March
Anna S. Gasteiger.
Blumen sprechen lassen
(let flowers speak)
Special exhibition
7 April - 27 October 2019
The exhibition is included in the admission charge.
Guided tours
No regular guided tours
Special tours on request (please call)
Admission charges 2019
3.50 euros regular
2.50 euros reduced
Annual season tickets/
14-day tickets
All opening hours and admission charges at a glance

Further information
Service (leaflets, photo/film, links …)

Access via several steps

Restaurant und Biergarten
Alte Villa Utting
Seestraße 32
86919 Utting/Ammersee

08806 617 oder/or 534456
www.alte-villa-utting.de

Utting
www.bahn.com

from Munich to "Herrsching"

From Herrsching to Holzhausen
www.seenschifffahrt.de
Few parking spaces available
Responsible administrative office
Bayer. Schlösserverwaltung/
Außenstelle Ammersee
Landsberger Straße 81
82266 Inning/Stegen

08143 9304-0
Fax 08143 9304-30
seeverwaltung.ammersee@ bsv.bayern.de