Neuschwanstein Castle
– Schwangau
Neuschwanstein Castle, which King Ludwig II built on a rugged hill against a backdrop of picturesque mountain scenery, was prompted by the idea of rebuilding an existing ruin "in the authentic style of the old German knights' castles", as he wrote in a letter to Richard Wagner.
The castle was built by Eduard Riedel and Georg Dollmann from idealized sketches by the scene painter Christian Jank. While the building itself imitates the 13th-century Romanesque style, the paintings inside predominantly depict scenes from Wagner's operas such as "Tannhäuser" and "Lohengrin". The Singers' Hall is modelled on the banqueting hall of the Wartburg near Eisenach; the decoration includes wall paintings illustrating the Parzival saga.
The church-like Throne Hall was modelled on Byzantine domed architecture and the Allerheiligenhofkirche (Court Church of All-Saints) in the Munich Residence and symbolizes Ludwig II's idea of a monarchy by God's grace. Neuschwanstein is not a copy of a medieval castle but a typical Historicist creation.
Webcam showing Neuschwanstein Castle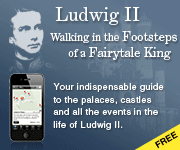 Object information:
Address
Neuschwansteinstr. 20
87645 Schwangau

08362 93988-0
Infoline 08362 93988-77
www.neuschwanstein.de
Tickets
Tickets for Neuschwanstein Castle are sold exclusively at the ticket centre:
Ticket-Center Hohenschwangau
Alpseestraße 12
87645 Hohenschwangau

08362 93083-0
www.ticket-center-hohenschwangau.de
You can buy tickets during the following times
April-15 Oct: 7.30 am-5 pm
16 Oct-March: 8.30 am-3 pm
Reservation of tickets
Tickets with a specific visiting time can be reserved for an additional prepaid charge two days before the desired castle visit (3 pm local time) at the latest. The visiting time can only be changed or the ticket cancelled up to 2 hours before the start of the tour (also by phone).
Opening hours
April-15 Oct: 9 am-6 pm
16 Oct-March: 10 am-4 pm
open daily
Closed on: January 1 and December 24/25/31
Guided tours
We offer guided tours in German and English (approximately 30 minutes).

Audioguide tours are available in nineteen languages.
Admission charges 2019
13 euros regular
12 euros reduced
Annual season tickets/
14-day tickets
All opening hours and admission charges at a glance

Combination ticket
(Neuschwanstein Castle/ Hohenschwangau Castle)
25 euros regular
23 euros reduced
"Königsschlösser"
combination ticket
(King Ludwig II's palaces)
26 euros
The combination ticket is valid for six months; you can visit each of the palaces Herrenchiemsee, Linderhof, and Neuschwanstein once.
Further information
Service (leaflets, photo/film, links …)

Detailed information on www.neuschwanstein.de

Shop
www.kulturgut.de

Free wi-fi available

Cafeteria
Multivision-Show

Schlossrestaurant Neuschwanstein

08362 81110
www.schlossrestaurant-neuschwanstein.de

Füssen
www.bahn.com

Bus (RVA) to "Hohenschwangau"
There are coach trips up the mountain which end below from the castle.
Car park at Hohenschwangau
Responsible administrative office
Schlossverwaltung Neuschwanstein
Neuschwansteinstr. 20
87645 Schwangau

08362 93988-0
Infoline 08362 93988-77
Fax 08362 93988-19
svneuschwanstein@ bsv.bayern.de
www.neuschwanstein.de