Lustheim Palace
– Oberschleißheim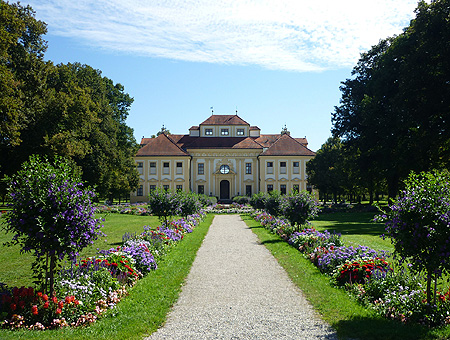 On the occasion of his marriage to the Austrian emperor's daughter Maria Antonia in 1685, Elector Max Emanuel commissioned the architect Henrico Zucalli to build the little hunting lodge and garden palace of Lustheim.
The building, at the eastern end of the long baroque garden, originally formed the centre point of a semicircle of round buildings – these however fell into ruin in the course of the 18th century.
In the palace an important cycle of frescoes by Francesco Rosa, Giovanni Trubillo and Johann Anton Gumpp pay homage to Diana, goddess of hunting.
Today Lustheim Palace houses the world-famous Meißen porcelain collection of Professor Ernst Schneider, second in importance only to the Dresden collection.
Schleißheim New Palace
Schleißheim Old Palace
Schleißheim Court Garden
Object information:
Address
Max-Emanuel-Platz 1
85764 Oberschleißheim

089 315872-0
www.schloesser-schleissheim.de
Opening hours
April-September: 9 am-6 pm
October-March: 10 am-4 pm
closed Mondays
Closed on: January 1, Shrove Tuesday, December 24/25/31
Guided tours
No regular guided tours
Admission charges 2019
3.50 euros regular
2.50 euros reduced
Combination ticket
(Old Palace / New Palace / Lustheim Palace)
8 euros regular
6 euros reduced
Annual season tickets/
14-day tickets
All opening hours and admission charges at a glance

Further information
Service (leaflets, photo/film, links …)

Detailed information on www.schloesser- schleissheim.de

Ernst Schneider Collection of Meissen Porcelain
(Branch of the Bavarian National Museum)

Shop at the New Palace
www.kulturgut.de

Schlosswirtschaft
Oberschleißheim Alm

089 3151555
für Reservierungen:

089 31288672
www.schlosswirtschaft-oberschleissheim.com

"Oberschleißheim"

Bus to "Schloss" or to "Schloss Lustheim" (only on workdays)
Car park at the New Palace (with costs)
Responsible administrative office
Schloss- und Gartenverwaltung Schleißheim
Max-Emanuel-Platz 1
85764 Oberschleißheim

089 315872-0
Fax 089 315872-50
sgvschleissheim@ bsv.bayern.de
www.schloesser-schleissheim.de