Fantaisie Palace Park –

Eckersdorf/Donndorf near Bayreuth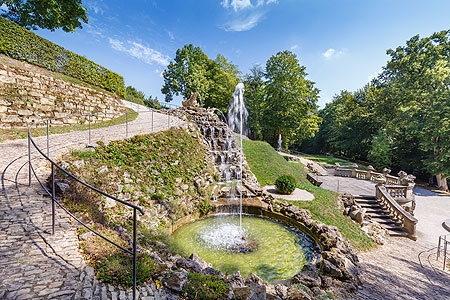 The summer seat of Duchess Elisabeth Friederike Sophie von Württemberg (1732-1780) is a masterpiece of garden design which combines various styles: the rococo style, the sentimental landscape style and the mixed style of the 19th century.
The Museum of Garden Design opened in the palace in July 2000 documents the many complex aspects of German garden history with particular emphasis on the gardens of South Germany in the 18th and 19th centuries.
Object information:
Address
Bayreuther Straße 2
95488 Eckersdorf/Donndorf

0921 731400-11
www.gartenkunst-museum.de
Opening hours
Open all year round
Admission charge
Admission free
Waterworks
May to October: daily 9 am-6 pm every hour on the hour
Further information
Service (leaflets, photo/film, links …)

Accessible only in parts

Café Schloss Fantaisie

0921 7563313
www.facebook.com/ CafeSchlossFantaisie

Bayreuth
www.bahn.com

Bus to "Donndorf Hotel Fantaisie"
Car park available; bus parking spaces only near the town hall
Responsible administrative office
Schloss- und Gartenverwaltung
Bayreuth-Eremitage
Ludwigstraße 21
95444 Bayreuth

0921 75969-0
Fax 0921 75969-15
sgvbayreuth@ bsv.bayern.de
www.bayreuth-wilhelmine.de