Herrenchiemsee Palace Park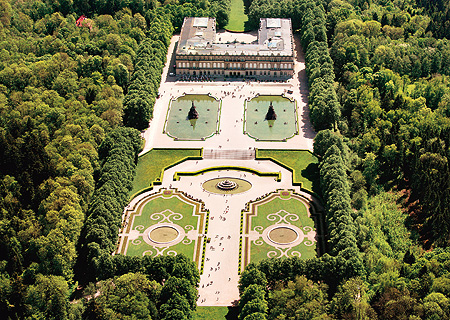 As with the New Palace of Herrenchiemsee, King Ludwig II wanted the park modelled on the Versailles complex without being an exact copy of it. The plans focused primarily on the areas that could be seen from the main rooms of the central palace tract – the State Bedroom and the Hall of Mirrors.
The main parterre on the west side with hedges, geometrically shaped lawns and gravel ornamentation ends in a canal leading to the lake. The Latona, Fama and Fortuna Fountains have been in operation again since 1994, following comprehensive renovation. It takes around two hours to walk round the 230-hectare island, which was turned into a natural park. The path is bordered by dense woodland, meadows with grazing animals and orchards and there are splendid views of the Alps. At the northernmost tip of the island is the Lake Chapel of the Holy Cross dating from the 17th century, which is easily accessible from the boat pier.
Object information:
Address
83209 Herrenchiemsee

08051 6887-0
www.herrenchiemsee.de
Opening hours
Open all year round
Admission charge
Admission free
Waterworks
May to 3 October
Further information
Service (leaflets, photo/film, links …)

Detailed information on www.herrenchiemsee.de

Shop at boat pier
www.kulturgut.de

Café im Neuen Schloss

08051 968834
schlosscafe-herrenchiemsee.de
Schlosswirtschaft Herrenchiemsee

08051 962767-0
schlosswirtschaft-herrenchiemsee.de

Prien
www.bahn.com

"Chiemseebahn" (in summer) or bus (in winter) to "Schiffsanlegestelle Prien/Stock"

Regular boats from Prien/ Stock or Gstadt
www.chiemsee-
schifffahrt.de
Coach trips from the landing stage to the monastery and back (from mid-April to the end of October)
Responsible administrative office
Schloss- und Gartenverwaltung Herrenchiemsee
83209 Herrenchiemsee

08051 6887-0
Fax 08051 6887-99
sgvherrenchiemsee@ bsv.bayern.de
www.herrenchiemsee.de