Schleißheim Court Garden –

Oberschleißheim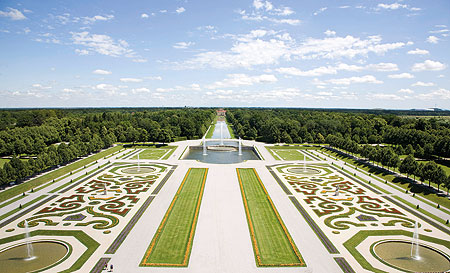 Schleißheim Palace has one of the few baroque gardens that have remained virtually intact. Its basic structure with the canals, designed by Henrico Zuccalli, was already in place by 1684, and by 1705 the whole bosket area was completed. From 1715 the parterre and cascade were constructed from plans by Dominique Girard, a pupil of Le Nôtre, many high-baroque refinements were added and the main axis acquired its striking impression of depth. The central canal dates from 1781.
In 1865 comprehensive reconstruction work was carried out by Carl von Effner. The palace garden was badly damaged in 1945 and has been gradually restored: the most recent measure, in 1999, being the renovation of the cascade.
Schleißheim New Palace
Schleißheim Old Palace
Lustheim Palace
Object information:
Address
Max-Emanuel-Platz 1
85764 Oberschleißheim

089 315872-0
www.schloesser-schleissheim.de
Opening hours
January, February, November, December: 8 am-5 pm
March, October: 8 am-6 pm
April, September: 8 am-7 pm
May-August: 8 am-8 pm
Admission charge
Admission free
Guided tours
Waterworks
April to mid-September
daily 11.30 am to 4 pm and Saturday and Sunday 10 am to 6 pm
Further information
Service (leaflets, photo/film, links …)

Accessible

Shop in the New Palace
www.kulturgut.de

Schlosswirtschaft
Oberschleißheim Alm

089 3151555
für Reservierungen:

089 31288672
www.schlosswirtschaft-oberschleissheim.com

"Oberschleißheim"

Bus to "Schloss" or to "Schloss Lustheim" (only on workdays)
Car park (with costs)
Responsible administrative office
Schloss- und Gartenverwaltung Schleißheim
Max-Emanuel-Platz 1
85764 Oberschleißheim

089 315872-0
Fax 089 315872-50
sgvschleissheim@ bsv.bayern.de
www.schloesser-schleissheim.de