Neuburg Palace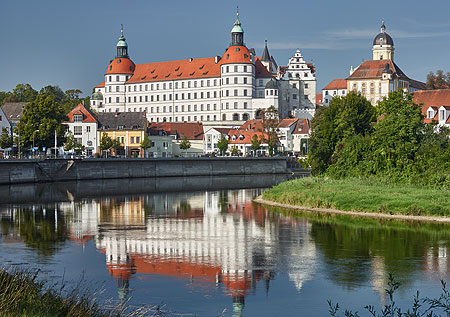 The massive Renaissance palace was built for Pfalzgraf (Count Palatine) Ottheinrich (1502-1559) as the residence of the principality of Pfalz-Neuburg. In 1665-70 the baroque east wing was added with the two round towers that dominate the surroundings. Particular highlights are the courtyard façade decorated in sgraffito technique and the castle chapel with frescoes dating from 1543 by Hans Bocksberger, the first Protestant church to be built in Germany. In addition to the Renaissance Knights' Hall and the baroque grottoes, the palace has important works of art illustrating the history of this principality.
The main floor in the Baroque east wing of the palace is dedicated to the art and history of the principality of Pfalz-Neuburg. The former residential and state rooms of Neuburg Palace now host an impressive display of the history of this principality. 550 works of art – portraits and valuable tapestries, weapons, furniture and precious craftwork – bear witness to this exciting chapter in Palatine-Bavarian history.
Among the most precious treasures housed in Neuburg Palace are the ecclesiastical textiles from the Ursuline Monastery of Neuburg, founded by Elector Johann Wilhelm von der Pfalz in 1698.

These sumptuous sacred vestments and important altar antependia with Biblical scenes were embroidered in silk, silver and gold by the Ursuline nuns in the 18th century. They are of outstanding artistic quality. Rounding off this display on the third floor of the east wing are sacred works of art from the period of the Counter-Reformation in Pfalz-Neuburg and religious folk-art.
In the State Gallery of Flemish Art in the west wing are numerous works of masters such as Peter Paul Rubens, Anthonis van Dyck and Jan Brueghel.
---
Grüner Saal

(Green Hall)
Weißer Saal

(White Hall)
Einsäulensaal

(hall with a single column)
Schlosskapelle

(palace chapel)
Blaues Foyer

(Blue Foyer)
Große Dürnitz

(Knights' Hall)
Kleine Dürnitz

(Small Knights' Hall)
Rittersaal

(Knights' Hall)
Schlosshof

(palace courtyard)
Schlossterrasse

(palace terrace)
Object information:
Address
Residenzstraße 2
86633 Neuburg/Donau

08431 6443-0
Opening hours
April-September: 9 am-6 pm
October-March: 10 am-4 pm
closed Mondays
Closed on: January 1, Shrove Tuesday, December 24/25/31
Guided tours
No regular guided tours
Admission charges 2019
5.50 euros regular
4.50 euros reduced
Annual season tickets/
14-day tickets
All opening hours and admission charges at a glance

Further information
Service (leaflets, photo/film, links …)

Access to entrance hall via ramp; lift and toilet available for the disabled

Archaeological Museum Neuburg (Branch of the Bavarian State Archaeological Collection Munich – Museum of Pre- and Early History)

Waiting room and cafeteria

Neuburg
www.bahn.com

Bus to "Amtsgericht" or to "Karlsplatz"
No own car park
Responsible administrative office
Schlossverwaltung Neuburg
Residenzstraße 2
86633 Neuburg/Donau

08431 6443-0
Fax 08431 6443-44
svneuburg@ bsv.bayern.de