Object description:
Old Court
– Bamberg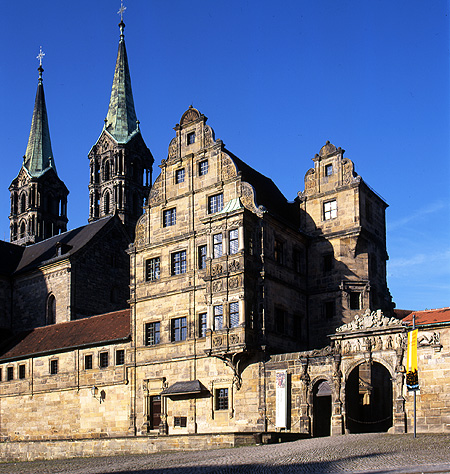 The Old Court, located opposite the New Residence, still contains fragments of masonry from the great hall and chapel of the 11th-century episcopal palace.
Today the Old Court houses the Historical Museum of the city of Bamberg.
---
The following rooms are available for your events:

Katharinenkapelle

(St Catharine's Chapel)

St Catharine's Chapel is suitable for concerts, lectures, and civil weddings up to 80 persons.
Information
Historisches Museum der
Stadt Bamberg
Domplatz 7
96049 Bamberg

0951 871142
Opening hours
Historical Museum
of the city of Bamberg
May-October: 9 am-5 pm
closed Mondays
November-April: open only for special exhibitions
To protect visitors from COVID-19, the two chapels at the Old Court must remain closed until further notice.
Further information
Service (leaflets, photo/film, links …)

Lift and toilet for the disabled available; access to the entrance via cobblestones; disabled parking spaces on "Domplatz" (distance c. 100 m)

Bamberg
www.bahn.com

Bus to "Domplatz"
No own car park