Nymphenburg Palace Park
– Munich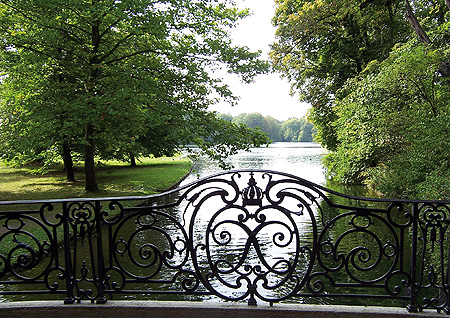 The history of the palace and the park of Nymphenburg are inextricably linked, and cover a period of more than 300 years. From 1664, Electress Henriette Adelaide of Savoy had a summer palace built from plans by the Bologna architect Agostino Barelli, with a small ornamental garden on its west side. Henriette Adelaide's garden was completely swallowed up by the park that was created later on. In 1701 Max Emanuel began extending his mother's palace, and also the gardens, which were planned and produced by Charles Carbonet, a pupil of Versailles creator André Le Nôtre. He was probably responsible for the canal which was laid out from 1701 in the existing break in the trees in order to divert water into the garden from the River Würm two kilometres away.
The transformation of the palace and gardens into a famous baroque complex at the hands of Dominique Girard and the Bavarian court architect Joseph Effner did not however properly begin until 1715. It was now that the Nymphenburg canal system was completed and the garden was provided with a variety of water features and the necessary pumping machinery, and refinements were made to the design of the parterre, the hedge gardens and the extensive wooded park.
By the end of Max Emanuel's reign (1726), there was an axially symmetrical garden radiating out from the west side of the palace, which was dominated by the four sections of the "Large Parterre", laid out with ornamental flowerbeds close to the palace. In the centre where the paths intersected was the "Large Pool" with the Flora Fountain. The boskets on either side of the parterre contained a number of garden rooms equipped for the pastimes of the court society.
read more about Nymphenburg Park
Nymphenburg Palace
Museum in the former royal stables and Museum of Nymphenburg Porcelain
Small palaces at Nymphenburg Park
Object information:
Address
Schloss Nymphenburg,
Eingang 1
80638 München

089 17908-0
www.schloss-nymphenburg.de
Opening hours
Opening times (main gate):
January-March, November, December: 6 am-6 pm
April and October: 6 am-8 pm
May-September: 6 am-9.30 pm
The other park gates will be closed half an hour earlier.
Admission charge
Admission free
Guided tours
Gondola rides
During the summer season, gondola rides are offered every day (in fine weather) on the central canal. Further information can be obtained at www.gondel-nymphenburg.de or by calling the gondola ride number 0175 6000468.
Further information
Service (leaflets, photo/film, links …)

Accessible

Shop at the palace
www.kulturgut.de

There is a passage from the palace park to the Munich Botanic Garden
www.botmuc.de

Schlosswirtschaft Schwaige

089 12020890
www.schlosswirtschaft-schwaige.de
Café im Palmenhaus

089 175309
palmenhaus.de
die FASANERIE
Hartmannshofer Straße 20
80997 München

089 92284-600
www.fasanerie.de
Taxisgarten
Taxisstraße 12
80637 München

089 156827
www.taxisgarten.de

Munich
www.bahn.com

Tram to "Romanplatz",
bus or tram to "Schloss Nymphenburg"
450 car parking spaces, 25 bus parking spaces available
Responsible administrative office
Schloss- und Gartenverwaltung Nymphenburg
Schloss Nymphenburg,
Eingang 19
80638 München

089 17908-0
Fax 089 17908-627
sgvnymphenburg@ bsv.bayern.de
www.schloss-nymphenburg.de