Seehof Palace Park –

Memmelsdorf near Bamberg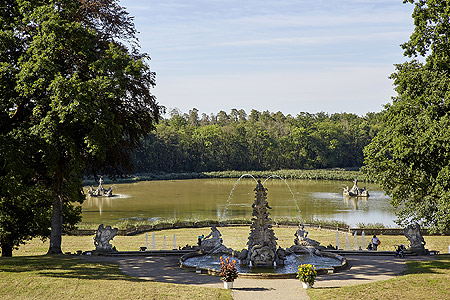 Lothar Franz von Schönborn, elected Prince Bishop of Bamberg in 1693, designated an area of 21 ha of land with adjacent lakes and forests to be made into gardens, axial to the yet unfinished summer palace. The Prince Bishop had the palace hill reshaped into precise terraces and the gardens divided into six large sections.
He thereby created the garden structure that has remained until the present, which is exceptional in style on account of it being more reminiscent of Italian or Dutch parks, rather than the more customary French ideals.
Prince Bishop Adam Friedrich von Seinsheim (1757-79) moved the cascade to the south and created a labyrinth. This was completed by the garden's decorative embellishment with 400 sculptures by Ferdinand Tietz, hardly any of which have survived until the present.
A chestnut avenue from 1797, used to lead beyond the enclosing walls to the Schweizerei (dairy) in the east and the pheasantry in the west.
The chestnut avenue and linden tree avenues framing the gardens and the "tapis verts", have been replanted during are the old hornbeam hedges along the pergola walk, and the lime tree groves.
Central to the garden is the cascade created in 1772, which dilapidated increasingly after secularisation and was put back into operation in 1995. Its programme heralds the glory of Hercules, in allegory of the Prince Bishop's glory.
Object information:
Address
96117 Memmelsdorf

0951 4095-71
Opening hours
Open all year round
Admission charge
Admission free
Guided tours
Tours for groups on request
Waterworks
May to 7 October: 10 am-5 pm every hour on the hour
Further information
Dogs may be taken into the palace park if kept on the lead. It is not allowed to have picnics in the park.
Service (leaflets, photo/film, links …)

Access difficult in parts because of steps and gravel walks

Café-Restaurant

0951 4071640
www.schlossseehof.de

Bamberg
www.bahn.com

Bus to Seehof
224 car parking spaces, 7 bus parking spaces available
Responsible administrative office
Schloss- und Gartenverwaltung Bamberg
Domplatz 8
96049 Bamberg

0951 51939-0
und 0951 51939-114
Fax 0951 51939-129
sgvbamberg@ bsv.bayern.de
www.residenz-bamberg.de