Marienberg Fortress and Princes' Building
– Würzburg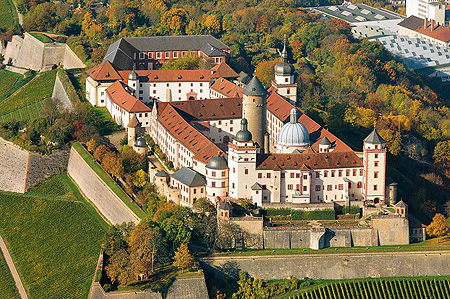 The original castle on the Marienberg, a hill which was first settled in the late Bronze Age, was probably a small fort built early in the 8th century by the Franconian-Thuringian dukes. The circular Marienkapelle is one of the oldest church buildings in South Germany and dates from around 1000. From 1200 an unusually large castle was built, which was extended during the late Middle Ages and the Renaissance. For half a millennium, from around 1250 to 1720, the Marienberg was the ruling seat of the Würzburg prince-bishops, who also held the title of Duke of East Franconia.
Following the storming of the castle in 1631 by the Swedes, Prince-Bishop Johann Philipp von Schönborn built a circle of massive bastions to protect the Marienberg. In 1945 the fortress was almost completely burned out, and its reconstruction was only completed in 1990.
On the first floor of the Princes' Building Museum (administered by the Bavarian Palace Department), is the Bibra Apartment with valuable furniture, tapestries and paintings, the Princes' Hall with early Gothic arcatures and the large Echtersche family tapestry, as well as a treasury and vestment chamber from the era of the prince-bishops. On the second floor is the »Museum für Franken« documenting the history of the fortress and town.
The 1,300 square-metre Princes' Garden is accessible from the castle courtyard: it was reconstructed in on the basis of plans dating from the early 18th century.